While I am bias to the color white as it is my absolute favorite… you cannot deny the clean, chic versatility of the white oxford/button up…
As a mademoiselle with grander size bra than some, I know the heartache of the inevitable
g a p p i n g
of the placket from your bust line.  Donning more of an ho
ur-gl
ass figure my shirts will hang like a tent if they aren't tailored at the waist however fabric puckering at the bust has always posed a problem until now…


In Style finally released their genius idea for this eternal wardrobe staple….
fitting by bra-size!
When one goes shopping for the everlasting staple…. 
H
ere are a few misconceptions and facts to keep your knowledge as proper as your wardrobe..
Many people interchangeably use the term "button-down," and "button-up."
The word 'Oxford' actually refers to the type of fabric it is made from
instead of the style of shirt.
When you hear someone say "OCBD…"= Oxford Cloth Button Down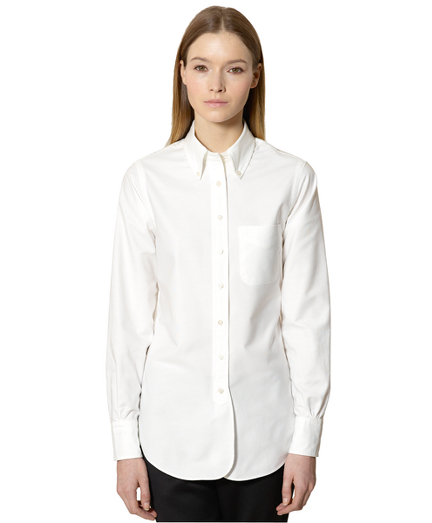 The beauty of the white button-up is its versatility…
Pairing the shirt with a pencil skirt (this one is leather) is great for the office, or business lunch
Florals, or prints on the bottom coordinate well with the white simple button-up.
The conservative top balances out its playful counterpart on the bottom.
Shorts are my thing!  They go great with a pair of tights for work and you can shed the tights, & in one easy step you are ready for drinks and a night out!
Colored bottoms especially for those who aren't as daring to try this trend, can put the calm white top with it to maintain its ease.